Hey Pennsylvania & Maryland!
Mauch Opera House, Jim Thorpe, PA & Ram's Head Live in Annapolis, MD
August 21 & 22, 2015

Hey Nineteen – Mini-Tour Memoir (Part 1)
A
s the dust settles on another summer, it seems like a good time to look back on the events of a Hey Nineteen first: our first mini-tour. On a beautiful, late-August weekend, we hit the road for a pair of shows – at the Mauch Chunk Opera House in Jim Thorpe, PA, and at Rams Head On Stage, in Annapolis MD. The trip was made comfortable and convenient for us, thanks to the generosity of Bob Peterson (keyboardist and vocalist for our friends and occasional stage-mates, Another Tequila Sunrise), who loaned us his tour bus for the occasion. Thanks also, to our good friend and driver, Rocky Tourtellotte. Rocky got us there and back again, on time, and in one piece – no small feat, shepherding an 11-piece band!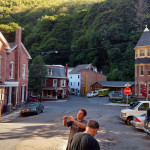 Our first stop was the historic Mauch Chunk Opera House, in Jim Thorpe, PA. Jim Thorpe, a beautiful, quaint little town, nestled in the Pocono Mountains, seemed almost like a Bavarian village, its narrow, twisting streets lined with unique clothing and book stores, antique & curio shops, restaurants and coffee houses, and Victorian-style architecture. The Mauch Chunk itself, boasts of being from the early 1880s, and it certainly had its share of old-world charm. The theater and backstage areas seemed alive with the ghosts of past performances, and we were all glad to be a part of its ongoing history.
However, the romantic ideal of performing in such an historical theatrical setting is no guarantor of matching one's expectations; The Mauch Chunk is not unlike our own Odeum Theater in East Greenwich, RI, along with its sonic challenges. Theaters originally designed to feature Vaudeville acts and live plays are not necessarily the most welcoming venues for a rock band with several guitarists, seven vocalists, a full horn section, and a potent rhythm section! And so, it was with patience, determination, and a suitably long sound check, that the technicians and sound engineers got us to sound pretty good, after wringing the feedback out of the monitors, and minimizing some of the low end frequencies, preventing the room from filling up with rumbling overtones.
After enjoying the venue's green-room hospitality, it was time for us to change and prepare to take the stage. The Opera House stage was accommodating for a band of our size, and we all had enough room to enjoy the experience, while the lighting engineer made the whole thing seem just a little bit larger than life! The audience seemed to enjoy the evening, demonstration their appreciation after each song, with some people singing along with even the more obscure songs from the Steely Dan catalog! Too soon, the night was over, and it was time to break down, pack up, and get some rest for the next day's journey – on to Annapolis!