Dale DeJoy – Vocals & Guitars aka "Steely Dale"
Favorite Dan Song: Deacon Blues
Dale began his professional music career as a guitarist/vocalist at age 13 playing for his middle school dance with his band Pegasus, managed by Bruce Clark a well known Jazz Saxophonist. He won a number of awards as a guitarist and played in a number of bands throughout his High School career most notably with Noel Paul Stookey, (of Peter, Paul and Mary) and David Mallett, best known for his song, "The Garden Song".
Dale attended Berklee College of Music where he studied Music Production and Engineering with Guitar as his major instrument and graduated Cum Laude in 1984. In his second year at Berklee he built, owned, and operated a recording studio, The Sound Loft, which became popular amongst many Boston standouts. Peter Wolf of J. Geils Band, Stu Kimball guitarist for Bob Dylan, Greg Hawkes, keyboardist for the Cars, Reeves Gabrels, guitarist for David Bowie are just a few. He recorded, played and produced his own music there and maintains a large library of original music. Dale has subsequently recorded 2 CDs of original music with multi-platinum award winning Engineer and Producer, Phil Greene.
Dale has always been inspired by the works of Steely Dan, placing their music and lyrics at the pinnacle of his musical aspirations. Thus, Hey Nineteen, a Tribute to Steely Dan, is the culmination of his music career. Dale also played in Pegasus, Emerald, Sigmund Larney Quintet, Breakwater Band, Chinese Cooks, Mission of Joy, Kuliana, That New Guy, 3D Joy, The Royal Scam, The Yewts.
---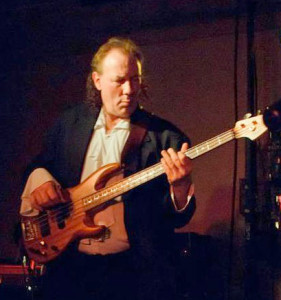 Rick Steinau – Bass, Lead & Backing Vocals
Favorite Steely Dan Songs: Dr. Wu & Third World Man
A self-taught musician, Rick has been developing his craft and gaining experience in a variety of styles for nearly forty years. From classic rock and top 40, through contemporary Christian originals and the coffee house scene, to high-profile tribute acts, Rick has been performing throughout New England and along the East coast, sharing the stage with national acts such as Foghat, Confederate Railroad and Phil Vassar.
Rick's influences span the history of "modern" music, beginning with the 1960s British Invasion bands. Soon, Rick's tastes came to include the experimental sounds of the late '60s psychedelic bands (Jefferson Airplane, Doors, Iron Butterfly). Rick firmly embraced the progressive side of 1970's rock (Yes, Genesis, Moody Blues), finally settling into the jazz and funk styles popularized by Steely Dan, EW&F and Chic.
---
Ajay Coletta – Drums & Percussion
Favorite SD Tunes: Babylon Sisters & Dr. Wu
Ajay is an Assistant Professor at New England Institute of Technology teaching graphic, web and multimedia design as well as courses in digital media, project management and communication. Check out Ajay's online portfolio here: www.eastsidemedia.com
The website for Hey Nineteen, the logo (inspired by the original Steely Dan logo), branding (colors inspired by the Aja album) and many of the videos were produced & created by Ajay.
"I was fortunate to grow up in the 70's in a household where my mother would listen to great music; I remember watching her make dinner and grooving to Stevie Wonder, Gladys Knight and the Pips and many of the great Motown artists…

As the 70s turned into the 80s, I started to find more influences including the progressive rock of Emerson, Lake & Palmer, the amazing vibe from Bob Marley, the artistic interpretations of King Crimson and Peter Gabriel and of course the undeniable sounds of Steely Dan. The late 80s introduced more favorites including The Police and Paul Simon; when I heard the high hat intricacies of Stewart Copeland (Walking on The Moon), and the polyrhythmic interpretations of Steve Gadd (Aja, Late in the Evening), I knew that drum set and percussion would be my musical voice."
In 2013, Dale Dejoy (Hey Nineteen band leader) met Ajay at the Ocean Mist in Matunick, RI and joined Dale's acoustic act "The Yewts"- performing as part of the Thursday night Summer dinner series. The sets includes many popular tunes from artists like The Eagles & James Taylor, but Dale could not resist including his favorite Steely Dan tunes into the setlist. The affinity for Steely Dan inspired the "two yewts" to start Hey Nineteen.
Ajay's other bands include – Santa Mamba, Planet Groove, Fat Buddha, The Yewts, Harambe' (West African), Regatta, Ghost In The Machine (A Police Tribute Band), What's Up Bach, Wilson Blue & The Blue Roots Reggae Band, The Ignitors…
↑Back to top of page
---
Doug Siqueira – Guitars
Favorite Steely Dan song: Gaucho
Guitarist Douglas A. Siqueira J.r. was born in March 2 1971 in Brazil, began to play guitar at age 14 influenced by rock music, first at a nylon string classical than moved to electric. At age 19 he was already playing professionally in local rock bands. Years later he attended a two year program at "Conservatorio Musical de Tatui" in SP Brazil, during this period he worked as a free lance musician in Sao Paulo region. In 1999 while attending "Conservatorio Souza Lima" in Sao Paulo he got a partial scholarship to attend Berklee College of Music. In 2000 he moved to Boston graduating "Magna Cum Laude" from Berklee College of Music in 2005. At Berklee he studied with Tim Miller, Mick Goodrick, Rick Peckham ,Hal Crook, Ed Tomassi, Steve Prosser among others, he also attended Master Classes with Pat Metheny, Michel Camilo and Joe Lovano. Douglas also studied improvisation and composition privately with the late jazz-guru Charlie Banacos for a year.
↑Back to top of page
---
Greg Cambio – Saxophones
Favorite Steely Dan songs: Deacon Blues & FM

Born in Providence, RI. Greg plays, Alto Tenor and Soprano saxophones and percussion for over 35 years.
After having attended Berklee College of Music and RI College for music education..Greg traveled the US extensively and performed with many acts including: Steve Anthony and Broadway, Bit and Pieces, Satin Sounds, Easy, The Greg Charles Quartet, Ladies Choice, Spice of Life, Soundsations, Steve Smith and the Nakeds, Rock-n-Soul Horns, Guilty Pleasure, The Shakers and Soul Ambition!
Greg has also shared the stage with many established artists including: Roomful of Blues, Duke Robillard, J. Geils, John Cafferty and Beaver Brown, Crystal Gayle and the legendary Gene Pitney!
↑Back to top of page
---
Jon Audette – Keyboards & Vocals
Favorite Steely Dan tunes – My Old School and Rikki Don't Lose That Number
Jonathan graduated summa cum laude from The University of Rhode Island with a Bachelor of Music in Piano Performance. Jonathan won the Mary K. Hail Music Mansion performance competition as well as being the recipient of the Kingston Chamber Music Festival award and he was initiated into Pi Kappa Lambda, music honors society. As an undergrad he was also a member of Kappa Kappa Psi, National Honorary Band Fraternity and served as the Theta Upsilon chapter president at URI.
Aside from classical piano, Jonathan has enjoyed exploring the jazz/rock style of Steely Dan. He also plays with Boston-based band Guilty Pleasure, covering dance, R&B, funk, disco, Motown, and soul. In addition to performing, Jonathan teaches private piano and is the musical director for Newport Children's Theater.
---
Joe LiVolsi – Trombones
Favorite Steely Dan songs: Gaucho & My Old School
Over the years, Joe has enjoyed playing in big bands at Western Maryland College, the University of Rhode Island, and The Catholic University of America; the highlights being performances in Washington, D.C. at Blues Alley, the Kennedy Center, and various jazz festivals as lead trombonist with the Catholic University Jazz Band. For a few years he played with the '60s rock & roll cover band, King Huey and His Court.
Currently, Joe is the bass trombonist in the Coastline Swing Band, an 18 piece big band that appears the first and third Thursdays of each month at the Venice Restaurant in Westerly, RI.
Additionally, Joe is active in the music ministry at his Church and has had the privilege of being associated with the award-winning liturgical music composer and pianist, Tom Kendzia.
↑Back to top of page
---
Dan Healey – Trumpet
Favorite Steely Dan Tracks – Kid Charlemagne and Gaucho
Dan currently teaches in Narragansett, Rhode Island, where he is the director of the High School Concert Band, Jazz Band and Concert Choir, as well as the 6th through 8th grade bands. In his time in Narragansett, Dan has also taught Guitar Class, Piano Class, Music History and Music Theory.
Last May, Dan completed a Masters Degree in Instrumental Conducting at The University of Rhode Island, where he was inducted into the Pi Kappa Lambda Honor Society for exceptional academic and musical achievement. He also completed his undergraduate studies at URI, where he graduated magna cum laude in 2007 with degrees in Music Education (focus in voice), and Music Performance (focus in Classical Trumpet).
As a trumpeter, Dan can be found exceeding the speed limit all over the state on his way to various musical endeavors including theater pit work, weddings, parades, masses, and many other events. Dan is psyched for the opportunity to perform with the great musicians in "Hey Nineteen", and can't wait for our next show!
↑Back to top of page
---
Kimberly (Hadsell) St. Onge
Vocals & Percussion
Favorite Steely Dan songs: Babylon Sisters & Dr. Wu
Kimberly has been singing since age 17 when she was a contestant for Miss Teen RI ­ she didn¹t win. However, it did jump start
her love of being on stage and performing. She began BelCanto training under the tutelage of Shoshana, and performed Opera Arias with her for many years. Over the years she has sung in a Top 40 band, a Disco band, a Rock/Opera Band, a Rhythm and blues band, a Blues band, and now Hey 19 Band! She also has sung on numerous recording from other artists such as Tony Monti, Stephen Decesare, and Shoshana.
In her real life, Kim is just an ordinary Insurance consultant. Newly married to her childhood sweetheart Steven, Kim loves a spicy bloody mary on ANY Sunday , red wine anytime, golfing , gardening, puttering around the house, and spending time with family and friends.
---
JoAnna Cassino
Vocals & Owner of Flipp Hair Salon and Reflexology Center
Favorite Steely Dan song: Rikki Don't Lose that Number
An up-beat, positive space aiming to interconnect art, wellness and all things beautiful to the eye and to the soul. Aiming to promote whole-ism in the individual and in the community through a common space and have fun in doing so!
↑Back to top of page
---
Rebecca Arsenault – Vocals
Favorite Steely Dan songs: Hey Nineteen, Deacon Blues
Rebecca has been singing since she was a child and has always loved music of all styles. Through her school age years, she sang in a 16 piece a cappella vocal group and began studying privately. She continued studying through college, continuing to study privately and participating in concert choir, but also began a love of singing jazz when given the opportunity to sing in front of the URI Big Band as the lead vocalist for 3 years. Since college, she has participated in small ensembles when the opportunities arose, but is thrilled with the opportunity to sing with Hey Nineteen.
Beyond the music, Rebecca is an IT Consultant for a local consulting firm in Warwick RI. She is married with two wonderful, energetic little boys who she hopes will grow up to love music as much as she does.
↑Back to top of page
[accordions id="2357″]